Background
University of Bolton supports a cohort of approximately 10,000 students and 700 academic and professional staff. The Off Campus Division supports relationships between the University and UK plus international partners with a further 6000 students. Bolton is building links between on campus schools and institutions that deliver University of Bolton qualifications across the wider world. These links include 40 Partners Institutions.
Challenge
Pre-Covid increasing numbers of global students were already demanding quality online courses and provision. In response the University of Bolton wanted to digitise a suite of programmes for an online pilot project. Tutors from selected disciplines needed to be well-equipped in their Moodle knowledge to run their courses and programmes online. They required the necessary skills to re-configure, adapt and shift for the changing student demands and the transition from from face to face lectures to online learning.
The University of Bolton were keen to find ways of expanding Moodle knowledge and therefore bring complex and heavy subject matters to life for their students. Even for more initiated tutors, it was challenging to make the content lighter and more engaging for students around the world. Bolton University was looking for a trainer who really connected with their staff and could bring out the best in them. To advance from what was previously an LMS platform for sharing of information. They now required a high level of customisation for online course design.
Solution
Catalyst proposed a two hour workshop for key individuals within the Off Campus team to define the key e-learning outcomes of the project, a Moodle audit to identify key skills gaps and a selection of the most suitable Moodle tools to work with.
The follow up training would constitute 12 days of consulting and training, constituting 96 hours over a 3 month period.
During these sessions, Catalyst would advise on course, module and activity design, the creation of H5P resources, advanced grading and pedagogy advice, and use of OER and digital assets. This would ensure that the lecturers' presence was always felt by the students, even if they weren't online at the time, providing consistent feedback loops thanks to a variety of formative assessment activities.
Catalyst would support Bolton University staff with the re-validation of two Pre-Masters Programmes for online delivery. Continuity of consultation was provided by Sam Taylor (Learning Technologist at Catalyst) during the validation process.  The Pre-Masters progammes included, MSc Cloud and Network Security, MBA Executive Islamic Insurance and Risk Management. Working together with key staff within the University, Dr. Julian Coleman – Dean, Off Campus Division, Professor Satya R Shah – Professor of Supply Chain and Engineering Management. Sa Thin Wetsandornphong – Link Tutor & Lecturer.
Sam delivered and met with individuals and small teams to offer guidance on tools and activity design and welcomed regular feedback. Four slots were offered each week for tutors to reserve.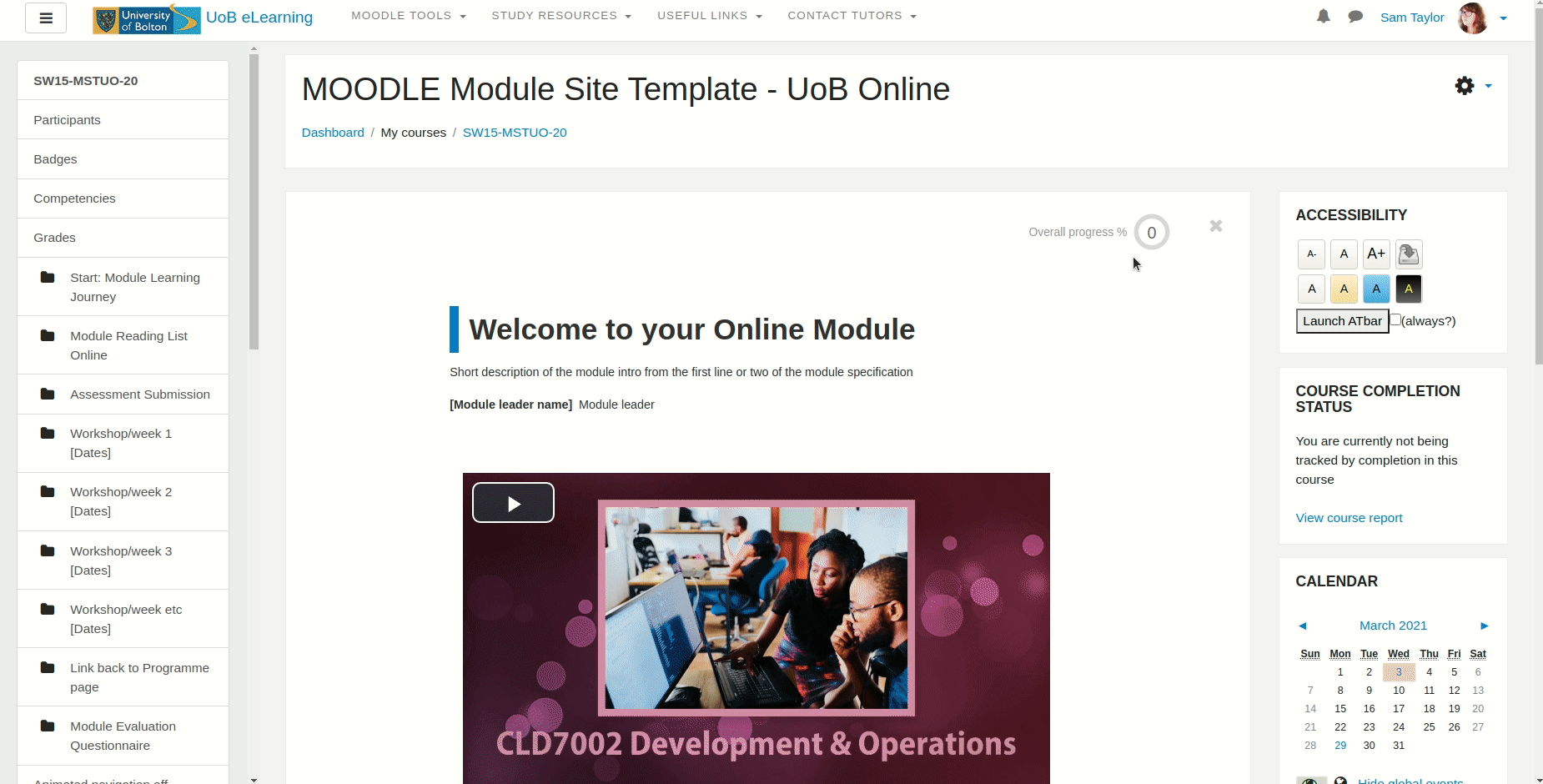 Results
Two Masters programmes have been validated for online delivery and taught to students worldwide.
Success in training and staff development for the enhancement of their Moodle skills.
Plans are in place for the development of another 5 programmes for online delivery with Catalyst, starting with Law subjects.
Catalyst will deliver an interactive resource for staff to support them with redesigning their content for Moodle.
Sam Taylor is currently writing a bespoke resource for Bolton to be used as a self-help guide for Bolton Lecturers wanting to transform their face-to-face lecturers into a format that works online. This resource will advise on learning design, Moodle tools for collaboration and administration, as well as ideas for formative activities.
Two courses were delivered: one on 'H5P for Practitioners' allowing teachers and trainers to create richer and engaging content for their learners from inside their Moodle, and another on 'Teaching with Moodle' showcasing all the options available for lectures to create a true virtual classroom.
COVID-19 has amplified the concerns and actions of universities across the world, including University of Bolton. Catalyst have helped short-term operational continuity, while ensuring long-term institutional viability.
Feedback from University of Bolton
'We have turned this project around in less than 2 months which was originally going to take us 6-9 months to complete ourselves'. Professor Satya R Shah – Professor of Supply Chain and Engineering Management. 
'It has been a steep, but insightful learning curve and opened our eyes to all the learning opportunities out there for engaging better with our remote students' Sa Thin Wetsandornphong – Link Tutor & Lecturer. 
'Sam approached this project with insight and empathetic sensitivity. From the outset a high level of trust, openness and honesty was established paying great dividends to both parties'. Professor Satya R Shah – Professor of Supply Chain and Engineering Management.
'Thanks to Sam, Bolton discovered a wide range of untapped potential, exploiting some of the tools and functionality that had, hither to, never been used'. Sa Thin Wetsandornphong – Link Tutor & Lecturer. 
'We have been experimenting and finding the right recipes of what works with our students, with the right mix of standardisation vs customisation'. Sa Thin Wetsandornphong – Link Tutor & Lecturer.